KEEP KIDS ENTERTAINED FOR HOURS WITH FUN & LAUGHTER😍
Introducing the original dancing cactus, a hilarious piece that will provide endless hours of entertainment! The dancing cactus doll can shine, twist, or learn to record like a parrot. This dancing cactus toy can repeat what you say, dance, sing, turn around, and bring a happy time to your child. The soft appearance of the plush filling is squeezed from the outside, which perfectly stimulates the imagination of children and stimulates creativity. Your child will follow the dance and try to learn to follow the rhythm. The cactus toy is made of knitted plush material, you can sing, dance, and it is good for early education. Toys will dance to the beat, attract children's attention.
The cactus plush toys use non-toxic and harmless plush fabric, the fabric is soft and comfortable, it will not cause any harm, and you and your children can play with confidence. The dancing cactus is fitted with a state-of-the-art sound system that produces extremely high-quality sounds! 360-degree grooving! The dancing cactus can rotate 360 degrees whilst performing all sorts of funky moves. The dancing cactus is bound to last for years to come, fitted with a strong underlying structure you can rest assured it won't break! Your child will follow the dance and try to learn to follow the rhythm.
This battery-operated cactus plant toy can dance to the beat, toy cactus sing songs, bringing your child a happy time in life. Charge the batteries and press the button, the cactus plush toy will sway and sing a happy song. This is the best birthday gift for kids. It can also be used as a room decoration. Cheerful music and dancing are very suitable for creating a pleasant atmosphere and for celebrating parties. It is also a very good adult stress reliever toy and educational toy for children.
FEATURES:
✅ The dancing cactus is soft plush made and looks super adorable when placed on the table

✅ It sings songs, moves the body, and dance freely

✅ It features an in-built speaker that gives out quality sound and operates on three AA battery

✅ The toy can dance, sing, move, and turn around. Suitable for bedroom, living room, home, office, nursery bed, and every place you like

✅

plush made, soft material, comfortable, safe. Wipe off the dust with a damp cloth for cleanup.

✅ It is good for early education. The toy will beat with the rhythm, attracting children's attention.

✅ An indispensable gift for birthday parties, very suitable for Children's Day gifts, surprise gifts for girlfriends.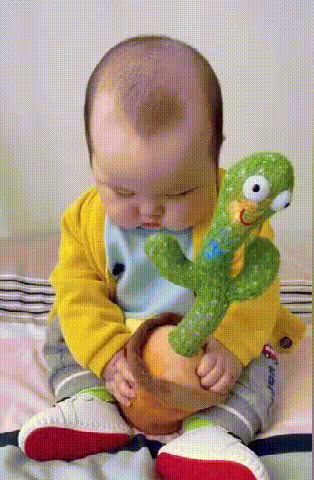 Product information:
Material: pp cotton




Style: cute style




Features: Cactus shape




Colour: Picture color

Note: 120song is a battery type

All with English and tongue

Except for the 3 English versions of the battery version (without this variant), all others can be recorded

2 styles to 11 styles are 60 songs

Charging model with Bluetooth connection
Packing list:
Electric plush toys*1